GOLD COAST SHOOTERS SUPPLIES
Open 8:30 to 5pm Monday to Friday Queensland time
We are CLOSED for Queensland Queens Birthday public holiday Monday 1 October – same day as NSW/ACT and SA Labour Day

STARLINE BRASS – MACK'S EARPLUGS – HI VIZ SIGHTS – CERUS MATS – HOGUE GRIPS – MAGAZINES – TEKMAT MATS  –   NOW ALL AVAILABLE ONLINE!
---
SEPTMBER SPECIAL – HOGUE STOCKS
SEPTEMBER SPECIAL!!! We are overstocked of Hogue rifle stocks. All current items here on the shelf are 15% off for September* making the pillar bed stocks $220 – down from $260, and the full alloy bed stocks $280 – down from $330.
While stocks last. No pun intended 😂
*only stocks here in stock, excludes special orders or customer orders placed in September.
---
We are the ONLY Authorised Hogue dealer in Australia. This means if you have a problem, your item is backed by Hogue warranty and replacement. We can also special order a wide range of grips direct from the HOGUE warehouse in the USA.
---
*** PLEASE NOTE West Australia Customers – due to current freight and WA Police legislation – Firearms Act 1973, section 19(2) – we are unable to ship to you firearms until further notice. This is due to Australia Post WA currently not being an approved commercial carrier of firearms in that State at this time. If you are from WA, please familiarise yourself with the current situation and once Australia Post is re-instated, we will then start to sell to your State once again. We are happy to sell you non firearm related items in the meantime that we can send to your private address.
---
Speedloader – GEN II – C.A.M. Loader for All Pistol Mags 9mm/.40 caliber
$68
NOTE not suitable for most single stack magazines – additional attachment required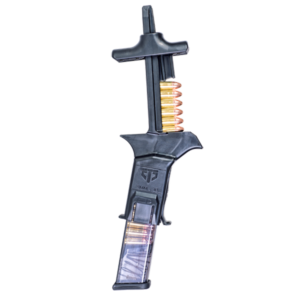 Fastest Loader Ever – Load your 9mm and .40 caliber mags in under 10 seconds!
Universal loader works with virtually all brands of pistol magazines.
Load magazine directly from ammo tray or with loose ammo.
Loader does NOT damage feed lips.
Portable and compact. Easily fits in your range bag or pocket.
Made in the USA and comes with a LIFETIME WARRANTY
Prices quoted in the above video are not applicable in Australia.
---
New Arrival

Kids size earmuffs and earplugs provide 30dB noise reduction. Available in pink, blue and orange, Fully adjustable and foldable, great for shooting, motor sports, fireworks and loud events.
---
Cerus Gear Pro Mats
A range of top quality instructional, cleaning and schematic maps for your Handgun and Rifle needs. See full details in our Online store.


---
Important Notice:
Please note that we cannot ship anything to ANY International destination. This includes items such as magazines, grips, stocks, rifles, handguns, brass etc to any destination including NZ, USA, Canada, Pacific Region, Asia, Europe, Africa and so on.
---

---
NOW AVAILABLE ONLINE
 PTA's and Licence applications
QLD licence holders – Please be aware that if you are arranging your PTA to be FAXED to us, it is your responsibility to follow up the process with WLB and to call us to see if its arrived. We do not have a phone number to call you so you need to call us.
---
Looking for Spare Parts? We maybe able to help with our Spare Parts Section and if it's not listed there, chances are we can get it for you!
---
Thank you for supporting our family owned business that has been in the same location for over 25 years. We hope we can find ways to better suit your needs while maintaining a high level of customer service.
---
Our Schedule of Fees have recently changed. Please call us to query prices regarding storage fees, transfers and brokerage.